Voxtrot - Raised By Wolves EP/ Mothers, Sisters, Daughters, & Wives EP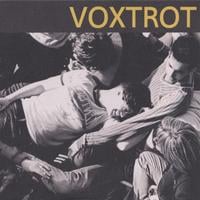 Voxtrot fucking rules. That being said, let me tell you a little more about them. In terms of the actual band, I don't know much about them, I think they are from Austin, Texas but the lead singer, whose name is Ramesh Srivastava, moved here from Scotland...or something, this is all trivial information. Moving on, the band so far has only officially released two EP's 2005's
Raised By Wolves EP
and this year's
Mothers, Sisters, Daughters, & Wives EP
, both on Cult Hero records. Anyways these two EPs are absolutely fantastic. Voxtrot has written 10 of the most solid, catchy, pop songs that I have heard since Belle and Sebastian's
Dear Catastrophe Waitress
.
Raised by Wolves EP
On the
Raised By Wolves EP
the band opens up with a song called "Raised by Wolves." An upbeat tune that instantly kicks off with an extremely catchy verse featuring staccato "boom-CHICK" rhythm guitars and warm melodic vocals from frontman Ramesh Srivastava. The song then segues into a soaring chorus with classic "ahhhh" backing vocals that gives an almost Phil Spector-"Wall of Sound" feel to the track. The following two songs are actually quite similar in structure and tempo but have different but equally catchy melodies. On the fourth track, "Long Haul," the band shows a more relaxed mellow sound that for me was very reminiscent of a Sea and Cake song. The last song, "Wrecking Force," is an Interpol meets Belle and Sebastian rocker featuring a distorted electric violin, but as always, catchy melodies are everywhere. Lyrically, Voxtrot seems to be writing songs from a place of desperation and confusion. One of my favorite verses comes from the EP's opener "Raised By Wolves" where Srivastava sings "And you break, This into waste, We are desperate, lonely and underpaid, I'm a bitter man, I know, But listen, honey, you're no fun." Overall, this is an amazing debut from an amazing band that is sure to do big things in the world of indie music.
Mothers, Sisters, Daughters, & Wives EP

On the
Mothers, Sisters, Daughters, & Wives EP,
released last week on Cult Hero,
Voxtrot doesn't switch things up too much from the
Raised By Wolves EP
but the songs on
Mothers
are as good if not stronger then those found on its predecessor. If there is any major distinction between the two EPs I would say that some of the songs
Mothers
are a bit darker, not in terms of the lyrics, but simply in terms of the music and arrangements. The EP opens with a song of the same name which starts some rhythmic guitar noise smothered in reverb and then kicks into a fast down-stroked guitar driven verse. Then, in what has already become "classic Voxtrot" the band dives into a catchy anthematic chorus as Srivastava proclaims "Listen I've come to rock this boat!" The next few songs are classic indie pop tunes with a bit of a darker side (see the aforementioned Belle and Sebastian meets Interpol description). The set closes with two songs, "Four Long Days" and "Soft & Warm," that are a bit lighter than the ones that opened the album. The two final songs carry more of a Nada Surf pop feel but still have the same sort of desperate lyrics found earlier on the record as well as on
Raised By Wolves
.
Overall, Voxtrot is a band that shows a lot of promise, if these two EPs were combined into one album (as I imagine might happen eventually anyways) I would call it one of the greatest debuts since Weezer's
Weezer (the Blue Album

)
. I am yet to hear a Voxtrot song that I don't like and am looking foward to some more material from these guys. Here are some links:
The Voxtrot Kid - Ramesh Srivastava's Blog
Voxtrot Homepage
Voxtrot's Myspace - Listen to Some Songs